Thank you for reading this post, don't forget to subscribe!
Programme Officer at Damien Foundation Belgium: Applications are invited for suitably qualified candidates for Programme Officer at Damien Foundation Belgium. Damien Foundation (DFB), Nigeria Project is a charitable Non-Governmental Medical Organization involved in Leprosy and Tuberculosis Control activities in Nigeria since early 90s. The foundation is very popular with her achievement in pioneering Multi-Drug Resistance Tuberculosis (MDR-TB) treatment in the country. She initiated the MDR –TB treatment in collaboration with University College Hospital (UCH) Ibadan in June 2010 and recorded a high treatment success rate.
In over 25 years of operation in Nigeria, the foundation has impacted lives of several Persons Affected with Leprosy (PALs) through free reconstructive surgeries, free prostheses, mobile clinics, social reintegration and social supports to both PALs and their families
Currently, Damien Foundation Nigeria covers a population of over 56 million across nine States (Oyo, Osun, Lagos, Ogun, Ekiti, Kwara and Ondostates) with technical and financial supports in case detection and management in Tuberculosis and Leprosy. The main character of Damien Foundation is the quality of services, which are delivered in close partnership with the community and the Government.
Programme Officer at Damien Foundation Belgium:
Job Title: Programme Officer
Location: Lagos
Employment Type: Contract
Organizational Unit: Programme Departments
Job Description:
Damien Foundation (DFB) is a non-profit humanitarian medical organization affiliated with Damien Foundation Belgium (DFB) and is assisting the Federal Government of Nigeria with the National Tuberculosis and Leprosy Control Programme (NTBLCP) in Oyo, Osun, Kwara, Ondo, Ogun, Ekiti and Lagos States.
As Sub Recipient (SR) to LSMOH TB project under Global Fund Grant, DFB has been vested with the responsibility of implementing Active TB case finding programme across the 20 L.G.A's in the State.
Damien Foundation Nigeria (DFB) is looking for qualified person to fill up the position below.
Experience: 2-5 years working on TB projects
Duties and Responsibilities:
Provide technical support and oversight on programme, monitoring and evaluation of the Global Fund project
Ensure that the implementation of programme, monitoring and evaluation activities are in line with the projectТs implementation plan and meets the donor and project's M&E needs.
Provide technical support to state officers in ensuring that programmatic data/indicators are accurately captured, and reported according to set guidelines.
Represent and make appropriate presentations to stakeholders at various forum on programme activities, achievements and deliverables and other M&E activities
Support the development and design of the M&E framework, tools and project M&E plans, guidelines and ensure efficient data management processes
Provide continuous technical lead to project team on programme, data management and regularly analyse data, highlight important programmatic gaps and coordinate with program management and others in addressing these gaps.
Conduct routine monitoring and supportive supervisory visits to project sites, including patientТs care, data verification and validation and data quality assessments (DQAs).
Ensure regular maintenance of database/information system, projectТs training database and programmatic progress updates that documents achievements on a regular basis.
Support monitoring activities to project sites, collation/analysis of monitoring reports for program feedback and decision making
Facilitate the preparation/production of project reports,
Provide technical support to PPM (Global Fund Project) including development of survey instruments, survey implementation, data analysis and report writing under the guidance of the Project Manager and Country Representative
Education / Experience:
Applicants must have degree in Medicine preferable MP
Should have at least 2 – 5 years of practicing experience in TB programme
Experience in Monitoring and Evaluation in related health fields and programs in developing countries:
Working experience with Global Fund projects or any other donor funded programs is desirable.
Experience with private, public and community health practice is desirable
Competency in Microsoft Office, SPSS / Epi-Info or STATA
Applicant's experience must reflect the knowledge, skills and abilities listed above
Age: Not more Than 45 years
Application Closing Date
28 January, 2022
Method of Application For Programme Officer at Damien Foundation Belgium
Interested and qualified candidate should:
Click here to apply online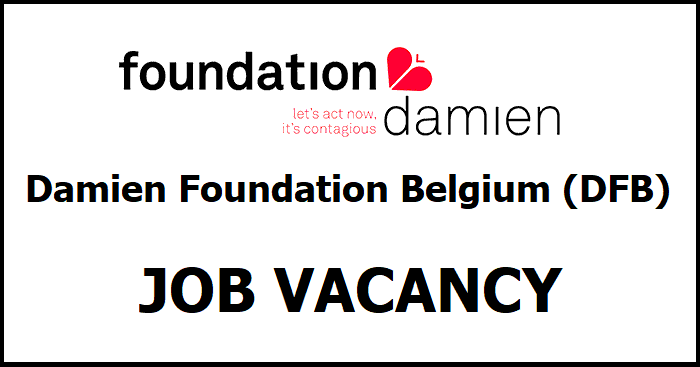 Programme Officer at Damien Foundation Belgium