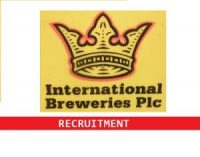 International Breweries Plc – Our Dream is to bring people together for a better world. Beer, the original social network, has been bringing people together for thousands of years. We are committed to building great brands that stand the test of time and to brewing the best beers using the finest natural ingredients.
Our diverse portfolio of well over 400 beer brands includes global brands Budweiser, Corona and Stella Artois; multi-country brands Beck's, Castle, Castle Lite, Hoegaarden, and Leffe; and local champions such as Aguila, Bud Light, Jupiler, Klinskoye, Modelo Especial, Quilmes, Skol, and Victoria.
We are recruiting to fill the position below:
Job Title: Network Engineer
Job ID: 30003977
Location: Sagamu, Ogun
Employment Type: Full-time
Band: VII
Job Description
As a member of the Solutions Team, a Network Engineer will provide onsite and remote support to our users.
They will work independently and as part of a team to answer service desk calls, urgently analyse technical issues, address Level 2 escalations, work on projects, and troubleshoot over the phone/onsite/via remote access.
This is a role that requires individuals to be versatile in their skillsets to support and manage network infrastructures to protect productivity, mitigate threats, and reduce costs.
Responsibilities
Maintain/Upgrade/Troubleshoot networking equipment.
Initiate and /or participate in problem management process.
Ability to learn new technologies as per business requirements.
Administer/Configure/Use monitoring and reporting tools such as Solar Winds, Thousand eyes, and PRTG.
Handle virtually any network related work that may occur.
Experience with firewalls, Internet VPN's remote implementation, troubleshooting, and problem resolution is desired.
Remote monitoring and management of system alerts and notifications.
Document maintenance for all computer systems and network infrastructure
Requirements
Must Have:
Bachelor's Degree in Computer Science, Computer Engineering or related field.
Minimum of 3 years' experience in a network admin or similar role.
Good understanding of all routing protocols (For example: BGP, EIGRP, OSPF, GLBP, VRF), Traffic Engineering, L2/L3 VPN, QoS.
Hands on experience with Routing and Switching (Cisco), Wireless (Cisco Meraki).
Strong understanding and familiarity with router, LAN switch, application accelerator, Firewall, wireless controller and IP Voice.
Good understanding of security, ACLs, LAN and Wireless security, 802.1x, VPN.
Ideally, you'll also have:
Disciplined and oriented in practice and adherence to process and procedures.
Ability and willingness to learn new skills quickly.
IT Certification will be an advantage (e.g. ITIL, CCNA, CCNP, MCSA, MCSE).
Application Closing Date
11th March, 2022.
How to Apply
Interested and qualified candidates should:
Click here to apply online
Additional Information
AB InBev is an equal opportunity employer and all appointments will be made in-line with AB InBev employment equity plan and talent requirements. We are a company that promotes gender equality. Internal applicants require Line manager approval. Please note that only short-listed applicants will be contacted.
The advert has minimum requirements listed. Management reserves the right to use additional/relevant information as criteria for short-listing