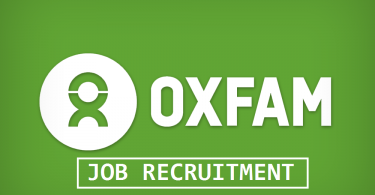 Communications Officer at Oxfam Nigeria: Applications are invited for Communications Officer at Oxfam Nigeria. Oxfam is an international confederation of 17 organizations (affiliates) committed to creating a just world without poverty. In Nigeria Oxfam works in the areas of Economic Justice/Sustainable Livelihoods, Humanitarian Programming to save lives, Advancing Gender Justice and Good Governance, adopting a right based approach.
We are recruiting to fill the position of:
Job Title: Communications Officer
Requisition ID: 10342
Location: Abuja
Internal Grade: D1
Contract Type: 1 Year Fixed Term
Department: Programme
Reports To: Country Director
Organizational Values
Accountability – Our purpose-driven, results-focused approach means we take responsibility for our actions and hold ourselves accountable. We believe that others should also be held accountable for their actions.
Empowerment – Our approach means that everyone involved with Oxfam, from our staff and supporters to people living in poverty, should feel they can make change happen.
Inclusiveness – We are open to everyone and embrace diversity. We believe everyone has a contribution to make, regardless of visible and invisible differences
Team & Job Purpose
To amplify Oxfam's programming for influencing in Nigeria and increase the impact and visibility of Oxfam's influencing footprints through leading, developing and delivering digital and conventional strategies and campaigns for promoting an active and engaged civil society; promoting the realization of full, equal rights and potential for women; and increasing the income and sustainable food systems for poor people.
The role requires capacity to conduct power analysis of political terrain needed for developing advocacy and digital campaign plans, strategies and tactics. It demands creativity and proficiency in analysing and synthesizing information to understand issues, identify options and support the Oxfam country team in sound decision making.
The role will be responsible for pushing decision-makers to take action and building public support through the use of digital and conventional campaigns strategies for ongoing influencing programmes.
The job holder will work with technical program, media, campaigning and policy colleagues to develop digital and communication strategies that meet the objectives of our public campaigns, and responsible for ensuring projects are delivered and also integrate social media into our wider communications, programme and campaigning work.
The jobholder will also regularly engage the conventional media outlets, build a comprehensive and strategic communication partnership for Oxfam's visibility and is expected to speak on behalf of the organisation.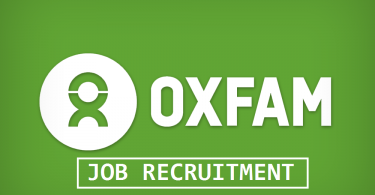 Job Responsibilities
Design and implement a comprehensive country media strategy that secures 3-4 high-impact media outlets in Abuja and across the country to help raise Oxfam's programming for influencing profile and visibility, in a bid to scale up positive evidence based models that will bring changes in the lives of the Nigerian people.
Analyse performance of digital campaigns (google analytics, social media analytics) to ensure online policies and procedures are adhered to, to protect the OXFAM and the campaigners within its network: including social media policy/strategy, moderation policy for any campaign web presence, with the support of the digital, legal and data protection teams.
Strengthen Oxfam Media Network and morph the group into "Journalists Against Inequality and poverty" to reflect our stand on strengthening our  programming for influencing drive for a Nigeria without inequality and poverty.
Work with the country teams to develop and implement a high-quality story-gathering strategy to showcase Oxfam's work by generating compelling stories for use in media, social media, and wider communications in support of fundraising and influencing objectives
Drive content and act as a moderator on public social media spaces (e.g. Facebook, Twitter, Youtube, Instagram, Whatsapp etc) where there is an OXFAM campaigns presence, and respond accordingly, in conjunction with the relevant campaign
Developing and delivering, with others, a strategy for communications to increase the impact and reach of our programme objectives and to ensure that Oxfam is accountable for our programme to a range of stakeholders including the general public and donors
Managing and coordinating our communications while working with programme staff to ensure that communications, including situation reports, are produced, signed off and disseminated to agreed standards.
Strong development of relationships with local and national policy makers to influence them and promote the change of policies and practices
Ensuring adequate media coverage for all programme activities, functions   and press releases/press statements
Document and publish Oxfam's learning in Nigeria by contributing articles for Oxfam's campaign Bulletin in West Africa, our bi-monthly site reps, and other relevant publications.
Establish and strengthen INGO and local NGO networking and advocacy coordination
Contribute with advocacy-related elements to project design and proposal development, as well as to internal reporting
Support the development of Oxfam's profile with international development advocacy forums  and to establish and develop relationships with relevant high-profile influencers, including but not limited to Commissioners, Permanent Secretaries, Local Government Chairmen, civil servants, think tanks, etc.
To work closely with the project officers to develop popular advocacy, influencing and campaigns materials
Attending external coordination meetings and representing Oxfam if required – reporting back as relevant
Managing the evaluation/impact assessment of communications from field teams, including the provision of feedback
Relationship and capacity building on communications within the programme team and assessing and advising on their communications needs
Monitor and evaluate the impact of both traditional and digital media projects, and provide regular reporting
Update social media plans and channels (facebook, twitter, youtube, instagram)
To perform any other duties that may be mutually agreed with manager
Job Requirements / Person Specification
Essential:
First Degree in Mass Communications, Journalism and Media,  Public Relations, Digital Media and Strategic Communications or any other related field.
1-3 years previous experience would have been gained at a technical/specialist level in any sector.
Excellent communication skills with knowledge of both internal and external communications environments and a creative and innovative approach and with the ability to convey complex ideas in a straightforward way and fluency in English;
Ability to conceptualize, design and deliver media, story-gathering and digital communication strategies
Experience of leading complex projects across teams and divisions and the drive to achieve results;
Access to key influencers in government, private sectors as well as in the media
Excellent time management, organization, and prioritization skills, with the ability to work under pressure and to deadlines;
Ability to use various social media platforms to support Oxfam's campaigns and programmes
Awareness of how a policy proposal moves from development to implementation.
Ability to develop creative ways to engage the public on  development work
Ability to travel (30% of the time) to Oxfam's program locations to gather stories, provide capability building and strengthen Oxfam's visibility
Ability to speak to the media on behalf of Oxfam if so nominated by the Country Director.
Experience of evaluating the impact of communications;
Experience of providing advice on communications including excellent interpersonal and influencing skills, demonstrating experience at a wide range of levels to internal and external contacts;
Commitment to Oxfam's values and an understanding of gender and diversity;
Willingness to travel at short notice.
Desirable:
Good numerical skills for compiling figures for newsletters and programme summaries.
 Advanced computer skills in designing published material, editing photographs.
Sound editorial judgement and ability to generate stories to further Oxfam's organisation objectives
Good understanding of, and commitment to, gender equity (particularly around poor women's rights)
Application Closing Date
26th October, 2021.
How to Apply For Communications Officer at Oxfam Nigeria
Interested and qualified candidates should:
Click here to apply online
Note
Oxfam is committed to preventing any type of unwanted behavior at work including sexual harassment, exploitation and abuse, lack of integrity and financial misconduct; and committed to promoting the welfare of children, young people and adults.
Oxfam expects all staff and volunteers to share this commitment through our code of conduct. We place a high priority on ensuring that only those who share and demonstrate our values are recruited to work for us.